Here Are 4 Ways a Sales Rep Can Enjoy Summer Vacation
by Drew Teller, on June 27, 2019

Are sales reps ever really on vacation? Are you worried that you will fall behind on the annual goals? Maybe you are worried that your customer forgets about you during the summer because a lack in contact. But hey, don't worry! Here are 4 tips on how to manage your sales and enjoy a summer vacation!
Tip 1: Close All Possible Pipeline Leads
In June and July, you and your potential customers are preparing for vacation. As things slow down and contact starts to decrease, pre-summer vacation decision making is critical. Moreover, if you are not planning for the autumn, it might be a mission impossible to get prioritized when you return. To close all possible qualified leads, we suggest 3 things:
1. End of Pipeline Close: If your customer is in the end of the sales funnel, simple request the buyer to sign. If you go on summer vacation with limited contact while your customer is close to signing, you could lose them.

2. Resolve Any Open Issues: Call the buyer to discuss a plan moving forward. Understandably, you will be out of contact during the summer and therefore, you should have a sense of how your customer feels. Having a concrete plan when you return will decrease worry and will actually allow you to enjoy vacation!

3. Create a Sense of Urgency:
If you have a product or service where a decision is required to plan the start up, use it as leverage. For example, it may sound like this: "In August, we are already getting fully booked so if you would like to get started, we need to make the plans ready before the summer starts." By creating a sense of urgency, you're customer will start thinking of what they could lose if they don't act now.
Tip 2: Set Calendar Meetings and Goals
Setting clear sales goals is important when you return from vacation because it will decrease stress and worry. Depending on your industry, try to set up as many meetings as you can before you leave for vacation. This way, you won't be rushed or confused about your tasks when you get back! Depending on your industry, you might try to book at least 3 meetings per week or plan for 2 project starts in the month of your return. Spend a little extra time now to be more efficient in the future.


Here are some tips on where to look for those meetings:

Review all of your meetings in the last 4 weeks. Do you have leads or actionable next steps with any of them? If not, call them and set up a meeting for August (or whenever you return).
Review your CRM customer database for any marketing qualified leads (MQLs). Double down and try to set up a meeting before you go on vacation so that you have a better shot at closing the deal when you return.
Customer Service! Give your customer base (or MQLs) a call and check in. Are they happy with your service? Is there anymore you can do to help them? Perhaps you can end your phone call with a meeting. Don't necessarily try and sell anything just yet, focus on providing your customer with value! You can also ask them if they know anyone else who could benefit from your products or services.
Tip 3: Find Overlapping Availability
If you are working during a specific time this summer, try to identify who else is available the same time as you. This way, you can open up the conversation around your mutual availability. When life moves into vacation mode, you have a better chance of taking your dialogue to the next step. You also have a great chance to spend time together, which will only improve your seller-buyer relationship.

Use social networking platforms such as LinkedIn or Facebook. Mention your availability and announce your vacation. By telling people when you are on vacation, it gives you an opportunity to connect in a different way. Maybe invite them to lunch?

Tip 4: No Summer Vacation? No Problem!
Let's face it. As a sales representative, there is no such thing as slowing down. The year is always in full speed. However, it doesn't mean you shouldn't give yourself some time to reset and gather your thoughts. If you are not taking a summer vacation, use the summer to reorganize. You can create that report you've been meaning to make or maybe analyze your own performance goals.
Be inspired! Find some new inspiration such as reading books, attending webinars, or reading blogs. You can rest the mind and improve your personal sales development.

Here are 3 free sales and leadership inspired content that will help you relax and reset:
1. Audiobook
Extraordinary leadership. Listen to Robin Sharma share his top leadership lessons he gave to Nike, Microsoft, and NASA. Download free audio book here.
2. Sales Podcast
Every Monday, John Barrows takes you through his best experiences and gives you actionable sales tips to increase sales! His clients include Salesforce, LinkedIn, and Okta. Find all of his episodes on iTunes, Google Play, SoundCloud, and Spotify.
3. Sales Hacker
One of our favorite sales blogs is Sales Hacker. It has been featured on various platforms such as Forbes, Hubspot, SaaStr, and LinkedIn. Find your favourite blog post!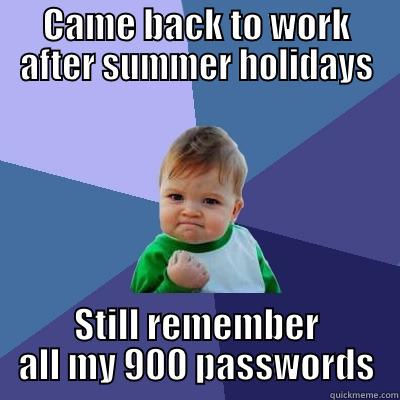 Want more sales tips? Jump in and have a look at How to Craft a Winning Business Proposal Outline.